Meet Shawn Hansen, Author of Halloween Tales 2013
and Scribbled Stories, Volume One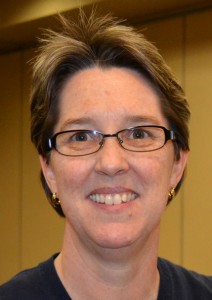 Shawn Hansen, the owner of Flying Donkey Press, The Indie Book Marketer, and Book Cover Junction is a retired police officer and English Professor.  She's published over 1000 stories in magazines such as Thaumatrope, Tweet the Meat, ByLine Magazine, 7×20, Common Ties, and in the anthology 140 and Counting.  
Her writing has earned Honorable Mentions from Writer's Journal and WritersWeekly.
In 2009, both of her entries placed in the top 25 of New York City Midnight's Tweet Me a Story Contest where "Bob the Butcher" won the Audience Award.  In 2011, all three of Shawn's entries made it to the group finals of New York City Midnight's Microfiction Challenge, and she once again earned the Audience Award – this time with her story "Allergic."  Ultimately, she placed in the top 25 out of over 3,000 entries.
Shawn is fortunate enough to do all of this while nestled in a wildlife preserve near Northern California's El Dorado National Forest.
---
About Halloween Tales 2013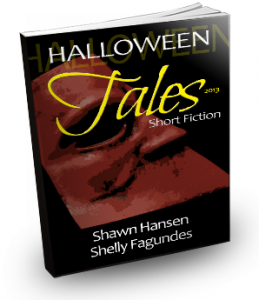 Halloween Tales 2013 is a collection of short fiction. The yummy treats inside include a short story, a Drabble, a poem, and 13 works of microfiction.
Candy Corn Rain – A Short Story
What kinds of things come out at night? Tommy McGuire is about to find out, and what he does to the worst thing might amaze you.
The Gorcery Store – One of 13 Works of Microfiction
It's ghoulish shopping at its best!
The Magic of Halloween – A Poem
Who's in the haunted house, and what does he see?
Their Best Parts – An Image-Enhanced Drabble
What do you get when you mix a birthday with a couple of inventive kids who aren't too keen on their pare

 Cover Design for Halloween Tales 2013 by Shawn Hansen
---
About Scribbled Stories, Volume One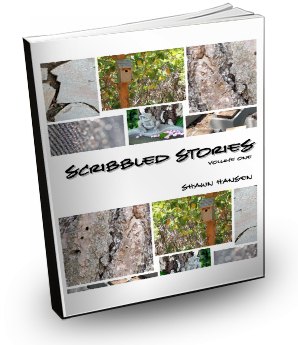 What will Jonathan Meyers find when he takes the forbidden shortcut through Harper's Pond?
What happens when Miss Abigail Louise Dettonridge and her beau engage in more than simple courting?
Is it really a good idea for a lazy, good-for-nothing husband to build the (unneeded) underground safe he saw in that infomercial?
What's the real story behind that frog statuette in your backyard, and how is he related to the whole kiss-a-frog-and-find-a prince myth?
Scribbled Stories, Volume One

is a collection of 10 short stories, six of which are award-winners. Each Scribbled Story begins with an original photograph taken by the author who then wrote the story each photograph inspired in her.
Some pictures may be worth 1,000 words, but in these 10 Scribbled Stories, author Shawn Hansen gives you both.
If you enjoy a little murder, like a dash of mayhem, are inspired by young love, and don't mind seeing the bad guys get it in the end, then

Scribbled Stories, Volume One

is for you!


 Cover Design for Scribbled Stories, Volume One by Shawn Hansen